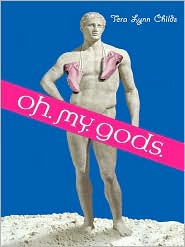 Oh. My. Gods. is about a young girl who is forced to transfer to a high school inhabited by the decedents of
Greek gods
. Pheobe is the only student without mystical powers, so between homework, racing against teammates, and crushing on a boy with
Greek god
good looks, she must figure out how to survive high school.
I rather enjoyed this book. It was an extremely quick read, but very enjoyable. I am intensely fascinated by
Greek mythology
so having the
classical mythology
thrown into the high school world, made it so interesting. I found Oh. My. Gods. wildly entertaining. I definitely recommend reading this book.
~ Stevi